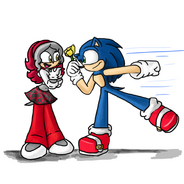 SonIkki is the romantic relationship between Sonic the Hedgehog and Nikki the hedgehog
Fanfics
None
Evidence
Sonic and Nikki both have superspeed and are both cocky
Nikki and Sonic secretly have feelings for each other
They both play guitar
When they were at the beach, Nikki told Sonic to hold her hand and jump into the water, and that she'd never let go.
Rivals
Supporters
Neutral
Haters
Ad blocker interference detected!
Wikia is a free-to-use site that makes money from advertising. We have a modified experience for viewers using ad blockers

Wikia is not accessible if you've made further modifications. Remove the custom ad blocker rule(s) and the page will load as expected.