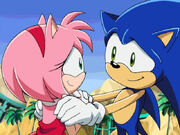 SonAmy is the romantic relationship between Sonic the Hedgehog and Amy Rose.
Fanfics for
Supporters
Neutral
Haters
I hate this couple! I support SonAze instead. Ponies! They're awesome! 23:55, July 22, 2012 (UTC)
This couple can burn, SonAze forevahz.00:13, July 23, 2012 (UTC)
I hate this couple I support Sonally! Sonally and Sonaze Fan Forever 09:30, August 17, 2012 (UTC)
I'm on Rose Wolf's side. I hate this couple, I support SonSal!

Daisyiih-Sonikku

I'm talking with you!

.
I only support this is a one-sided relationship. IMO, Amy loves Sonic, but Sonic does not love Amy. ~Catswolves4life
Gallery
Ad blocker interference detected!
Wikia is a free-to-use site that makes money from advertising. We have a modified experience for viewers using ad blockers

Wikia is not accessible if you've made further modifications. Remove the custom ad blocker rule(s) and the page will load as expected.