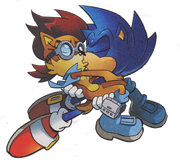 SonAlly is the romantic relationship between Sonic the Hedgehog and Sally Acorn.
Fanfics for
Supporters
Sonally rules! I wish Sally would turn back normal so Sonic  could be with her again. Sonally and Sonaze Fan Forever 09:20, August 17, 2012 (UTC)
i like this couple it orginal i dont get why people hate it so much .....

Splash

The

Hedgehog

01:11, August 14, 2012 (UTC)
Yep. --Speedy: "Knight of the Wind" 01:55, December 9, 2012 (UTC)
I support this cuz this is the only shipping that makes any sense.--Aidanthehedgehogisawesome (talk) 00:28, December 7, 2014 (UTC)Aidanthehedgehogisawsome
This is my OTP!~ I love Sonally! ~Catswolves4life
Neutral
None, yet
Haters
Ugh! I love ranting this couple, though >:D Ponies! They're awesome! 00:19, July 23, 2012 (UTC)
Are you kidding me, why is this couple even canon?00:21, July 23, 2012 (UTC)
I hate this couple♥Rainbow Blitz is 20% Hotter♥ 01:49, August 13, 2012 (UTC)
No. You don't have to come and confess 12:44, August 23, 2012 (UTC)
Heck no. Sally has treated Sonic like crap in several of the comic issues. Sally is selfish, she didn't want Sonic to save the world from Eggman and just wanted Sonic to be her king and rule by her side. Ugh.Sandra the Porcupine"Either you do or you don't." 01:50, November 21, 2012 (UTC)
Gallery
Ad blocker interference detected!
Wikia is a free-to-use site that makes money from advertising. We have a modified experience for viewers using ad blockers

Wikia is not accessible if you've made further modifications. Remove the custom ad blocker rule(s) and the page will load as expected.