SilvAmy is a romantic relationship between
Silver the Hedgehog
and
Amy Rose
.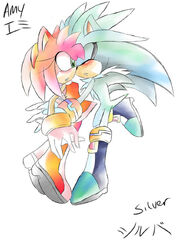 Fanfics for
None, yet.
Supporters
MUCH better than SonAmy.
01:00, July 23, 2012 (UTC)
Neutral
Haters
Amy love sonic not Silver!♥Rainbow Blitz is 20% Hotter♥ 02:37, August 13, 2012 (UTC)
I agree with Fira Amy loves Sonic but I don't think Sonic loves Amy back and I don't support SonAmy I support SonAlly and SonAze! But this is much better then SonMina and SonAmy

Sonally

Fan

Forever

11:05, October 13, 2012 (UTC)
SilvAze! SilvAze! --Speedy: "Knight of the Wind" 02:05, December 9, 2012 (UTC)
Although I am a multi shipper, I can NEVER see this happening. Their relationship will never reach more than a friendship. If you're wondering, I prefer ManAmy and SilvAze. ~Catswolves4life
Ad blocker interference detected!
Wikia is a free-to-use site that makes money from advertising. We have a modified experience for viewers using ad blockers

Wikia is not accessible if you've made further modifications. Remove the custom ad blocker rule(s) and the page will load as expected.