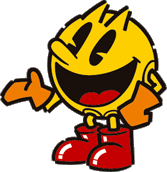 Pacman is a character in the video game series Pacman by Namco. But he exist in our Fandom.
In Willaca's Fanfic Pacman figured out that the ghost are working with Dr Eggman so Pacman teamed up with Sonic to stop the 5.
Ad blocker interference detected!
Wikia is a free-to-use site that makes money from advertising. We have a modified experience for viewers using ad blockers

Wikia is not accessible if you've made further modifications. Remove the custom ad blocker rule(s) and the page will load as expected.