MighOney is the romantic relationship between
Mighty the Armadillo
and
Honey the Cat
.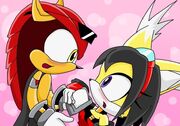 Fanfics for
None, yet.
Supporters
Love it! ♥

☯Sly the Fox☯

Bureizu za Kyatto 14:33, August 26, 2012 (UTC)
Yeah! You don't have to come and confess 14:45, August 26, 2012 (UTC)
Love Honey, Love Mighty, Makes sense.

P

i

t

s

B

r

o

t

h

e

r

1

4

3

Yeah...maybe :P♥Derpy and Rainbow Dash is the coolest pegasi EVER!!♥ 06:25, September 19, 2012 (UTC)
Mighty has no other pairings. --Speedy: "Knight of the Wind" 20:16, October 29, 2012 (UTC)
OK then. ~Catswolves4life
Haters
None, yet.
Ad blocker interference detected!
Wikia is a free-to-use site that makes money from advertising. We have a modified experience for viewers using ad blockers

Wikia is not accessible if you've made further modifications. Remove the custom ad blocker rule(s) and the page will load as expected.