Sonic's Comic
Edit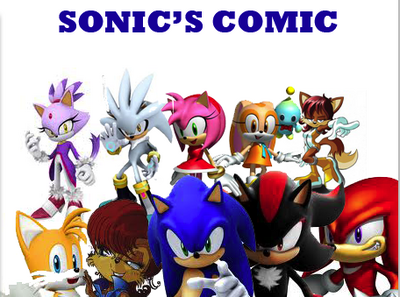 Sonic's Comic
is about Sonic and friends adventures. In the comic it supports
SonAlly
,
SonAze
,
ShadAmy
,
SilvAze
,
TailReam
and
KnuxIkal
. It does not support
SonAmy
, and
SilvAmy
.
Sonic Mobius
Edit
Sonic Mobius supports SonAlly and SonAze
Sonic Mobius is the number 1 Amy haters comic!
There are some cameos like Mario, Rayman and Archie
Sonic Mobius rules!
Sonic Mobius shows Sallys new look!
Ren is Sonic's rival in Sonic Mobius
Sally and Amy are friends!
Sonic Mobius shows flashbacks from the Sonic games.
Sonic Mobius still rules. 
Sonic Mobius was planned when Rose (The creator) was a kid
Characters
Edit
Fiona Fox
Sonia the Hedgehog
Manic the Hedgehog
Comics By:
Edit
Rose Wolf, TalkingSonicfan215 on Sonic News Network and SonicSuperHedgehog on Princess Sally wiki

I'll be back!
— Fiona from issue 1

Your Next Hedgehog
— Tails Doll from issue 3
Ad blocker interference detected!
Wikia is a free-to-use site that makes money from advertising. We have a modified experience for viewers using ad blockers

Wikia is not accessible if you've made further modifications. Remove the custom ad blocker rule(s) and the page will load as expected.